company news
DACSA Group Extends SAP Business One with OptiProERP's Manufacturing ERP
LAGUNA HILLS, Calif. (PRWEB) October 13, 2018
...Read More »

Salesforce Chairman and Co-CEO Marc Benioff to Speak at WIRED25
SAN FRANCISCO
,
Oct. 12, 2018
/PRNewswire/ -- Salesforce (NYSE: CRM), the global leader in CRM, today announced that Chairman and co-CEO
Marc Benioff
will speak at WIRED25 on
Monday, October 15, 2018
.
...Read More »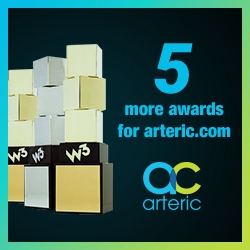 Arteric.com Captures Five More Website Design Awards
Total Number of Awards Reaches 13.
...Read More »
Everynet & TagoIO: Fast-Tracking Delivery of LPWA Applications
LONDON
,
Oct. 12, 2018
/PRNewswire-PRWeb/ -- Everynet – the leading Low Power Wide Area (LPWA) technology pioneer and network operator today announces, in partnership with TagoIO, the release of a new connector, making it easier and more intuitive to link your devices between Everynet and TagoIO platforms. The new move simplif.....
...Read More »
Technical Repair Solutions - Expanding Online Access to Specialty Industrial Electronics Parts & Equipment
MISHAWAKA, Ind.
,
Oct. 12, 2018
/PRNewswire-PRWeb/ -- Technical Repair Solutions (TRS) has been continually evolving as an industrial electronics business to meet the ever-growing demands of the machine repair and automation industries. In late 2017, Technical Repair Solutions revamped their online presence with a brand-new we.....
...Read More »
OKTO.io partners with Leading Digital Transformation Agency Jean Martin to Provide SEC Compliant Security Token Solutions
NEW YORK
,
Oct. 12, 2018
/PRNewswire/ -- 
OKTO.io
, the only integrated software suite for security token issuance and management, and
Jean Martin
,
...Read More »
Elkay Interior Systems Acquires Asian-Based Seating and Décor Business
OAK BROOK, Ill.
,
Oct. 12, 2018
/PRNewswire/ -- Representatives of
Milwaukee, Wisconsin
-based Elkay Interior Systems (EIS) today announced their acquisition of the seating and decor business of The Marketing Store, a global customer engagement agency, including operations based in both
...Read More »
Portfolio Analysis Tool Added to Junxure
NASHVILLE, Tenn.
,
Oct. 12, 2018
/PRNewswire/ -- 
AdvisorEngine
, a financial experience company that provides a digital wealth management technology platform for financial advisors, today announced the addition of Portfolio Analysis Tool powered by
...Read More »
HBUS Announces First Ever PAI Coin Listing And Giveaway To U.S. Audience
SAN FRANCISCO
,
Oct. 12, 2018
/PRNewswire/ -- HBUS, one of the fastest growing U.S. digital currency exchanges, today announced the listing of PAI Coin on HBUS' digital currency marketplace. The listing will coincide with a 125,000 PAI Coin giveaway to new registered HBUS users. PAI Coin is developed by Project PAI, an open-s.....
...Read More »
BPO in Public Market 2018 Global Trends, Market Share, Industry Size, Growth, Opportunities and Forecast to 2023
Mobile FrontHaul Market Scenario:
The global mobile front haul market is projected to grow at a steady rate and cap...
...Read More »
Global Data Center UPS Market Expected to Cross $6 Billion by 2024 | Hexa Research
The global
data center UPS market
size is anticipated to surpass USD 6 billion by 2024...
...Read More »
eBay Supports Young Entrepreneurs with Launch of Prince's Trust's Tomorrow's Store on its Marketplace
CoinText Adds "BUY" Feature to Pay For BitPay Invoices Over SMS
NASHUA, N.H.
,
Oct. 12, 2018
/PRNewswire-PRWeb/ -- Today,
CoinText.io
, a wallet to transact cryptocurrency using SMS messages, introduced a new "BUY" command that enables users to spend Bitcoin Cash (BCH) at any retailer that uses BitPay to process bitcoin payme.....
...Read More »
CompUSA Acquired by Startup Coupon and Deal Hunting Site DealCentral.com
BROOKLYN, N.Y.
,
Oct. 12, 2018
/PRNewswire-iReach/ --
Yishai Grossman
, founder of DealCentral, LLC, announced today that they have acquired CompUSA. DealCentral LLC is a privately held company that operates DealCentral.com, a startup deal hunting and coupons website and community. Terms of the tr.....
...Read More »
Video Surveillance as a Service (VSaaS) Market 2018: Global Opportunities, Sales Revenue, Historical Analysis, Business Growth, Top Leaders, Emerging Trends and Potential of Industry Till 2022
Market Highlights:
Multiple input/multiple output (MIMO) is multi-antenna wireless technology suitable for base sta...
...Read More »
StratusLIVE adds Corporate Social Responsibility (CSR) Industry Executive to Lead Workplace Giving Software Expansion
VIRGINIA BEACH, Va.
,
Oct. 12, 2018
/PRNewswire-PRWeb/ -- StratusLIVE, a leading provider of cloud-based, enterprise-class CRM and donor management software for nonprofit organizations and corporate social responsibility teams, today named Debbie Snyder Group Vice President, Corporate Social Responsibility (CSR) Solutions. Thi.....
...Read More »